IAFFE Archives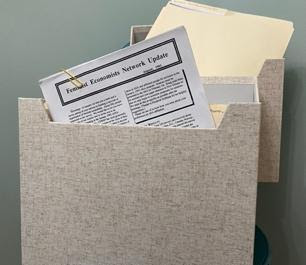 The IAFFE organizational archives will preserve and provide access to historically important IAFFE records. We are currently negotiating a permanent home for our archives, and we hope to finalize the transfer of our first set of records in 2024. 
The IAFFE organizational archives will:
Reinforce the values of our 40-year organizational continuity;
- Show the political, social, and professional context for the founding of IAFFE and IAFFE's journal;
- Preserve IAFFE institutional knowledge and records of its development and growth;
- Provide essential content for research and future organizational activities including
               - Documenting IAFFE's international history, growth, and global reach;
                - Providing records of organizational, professional, and policy achievements
                - Preserving IAFFE memory and heritage
                - Expanding the documentation of the organization and its members;
                - Recognizing the legacy of IAFFE and the development of the field of feminist economics;
                - Following the range and type of institutional activities over time;
                - Celebrating the work of feminist economists.
Improve the collection of present and future information.
IAFFE Archival Material:
Newsletters (dates and links coming soon)

IAFFE Conference Programs (dates and links coming soon)

INFORMATION on:
How to handle personal archival materials (link coming soon)

How to handle archival material that you would like to donate to the IAFFE archives. (link coming soon)
Archives of Feminist Economists:
IAFFE members have developed feminist research in economics and other social sciences. Members have donated their professional papers and materials to archives around the world. We will provide links to those public sites where feasible. Link to list of Archives Feminist Economists and Institutional Archive Websites

---

Archives of Feminist Economists and Institutional Archive Websites 
Lourdes Beneria, Cornell University 
Barbara Bergmann, Duke University 
Miriam Chamberlain, Ford Foundation 
Marianne Ferber, University of Illinois
Myra Strober, Stanford University 
Institute for Women's Policy Research, Harvard